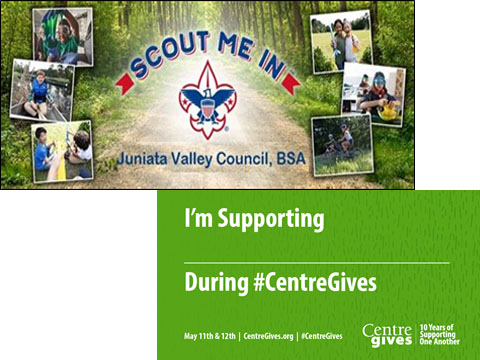 Juniata Valley Council BSA Scouting Family,

Please Save the Date for Centre Gives! This years Centre Gives event will begin on May 11th at 9:00am and will end on May 12th at 9:00pm. Annually, Juniata Valley Council Boy Scouts of America participates in the #CentreGives campaign and every year we are grateful for your generous support of our program.

We hope you will "Save the Dates" of Tuesday and Wednesday to support our council through #CentreGives.

We encourage you to concentrate giving during one of two dedicated time blocks, though a donation during any part of the event is appreciated. The large organization with the most unique donors during these times will earn an extra $500 prize for their organization:


To donate, go to www.centregives.org and select Juniata Valley Council, Boy Scouts of America. Your gift - as little as $10 - will help us qualify for additional funds from the "Stretch Pool" of funds that support our local Scouting program. Thank you for all that you do for Scouting!