Youth Protection Training Opportunities
*Sunday, August 26th 5:30-7:30 p.m. First Presbyterian Church, 311 Shelton Ave., Alexandria
*Tuesday, August 28th 6-8 p.m. Rockhill Church of the Brethren, 385 Valley St., Rockhill Furnace
*Wednesday, August 29th 6-8 p.m. Compass Center, 31 S. Dorcas St., Lewistown
*Thursday, September 6th 6-8 p.m. Mount Union Presbyterian Church, corner of Shirley & N. Division St., Mount Union
*Thursday, September 13th 6-8 p.m. Salvation Army, 2514 Shadyside Ave., Huntingdon
*Saturday, September 15th 10 a.m.-12 p.m. Capt. Jack Lions Club, Vance David Lane, Mill Creek
*Tuesday, September 18th 6-8 p.m. Rockhill Church of the Brethren, 385 Valley St., Rockhill Furnace
Are You a New Scout Leader?
---
ALL BSA REGISTERED ADULTS MUST COMPLETE THE NEW VERSION OF YOUTH PROTECTION TRAINING BY OCT. 1, 2018.
LOG IN TO MY.SCOUTING.ORG TO TAKE THE COURSE ONLINE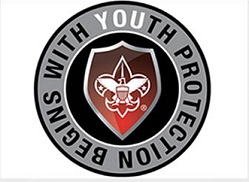 Youth Protection Training Face-to-Face Opportunities
*Sunday, August 26th 5:30-7:30 p.m. First Presbyterian Church, 311 Shelton Ave., Alexandria
*Tuesday, August 28th 6-8 p.m. Rockhill Church of the Brethren, 385 Valley St., Rockhill Furnace
*Wednesday, August 29th 6-8 p.m. Compass Center, 31 S. Dorcas St., Lewistown
*Thursday, September 6th 6-8 p.m. Mount Union Presbyterian Church, corner of Shirley & N. Division St., Mount Union
*Thursday, September 13th 6-8 p.m. Salvation Army, 2514 Shadyside Ave., Huntingdon
*Saturday, September 15th 10 a.m.-12 p.m. Capt. Jack Lions Club, Vance David Lane, Mill Creek
*Tuesday, September 18th 6-8 p.m. Rockhill Church of the Brethren, 385 Valley St., Rockhill Furnace

Trainer's Edge training participants from left to right: John Brothers (Westmoreland Fayette Council), Donald Walters Sr., Chad Little, Tim Kohler, Josh Kirby and Ida Lively.

Congratulations to the 2018 Trainer's Edge Participants

Congratulations to all those who attended Trainer's EDGE on Saturday, March 24, 2018. Trainer's EDGE is designed to help leaders become better at presentation skills for their pack, troop, crew, district, or council level leaders and youth. We had people from all districts and one from Westmoreland Fayette council. Six will be serving on the Wood Badge course this year. One wanted to strengthen his skills for troop presentations.
Do You Need Training?
If you don't see the training you need offered here, or through the online courses at myscouting.org, please email Josh Woods at josh.woods@scouting.org